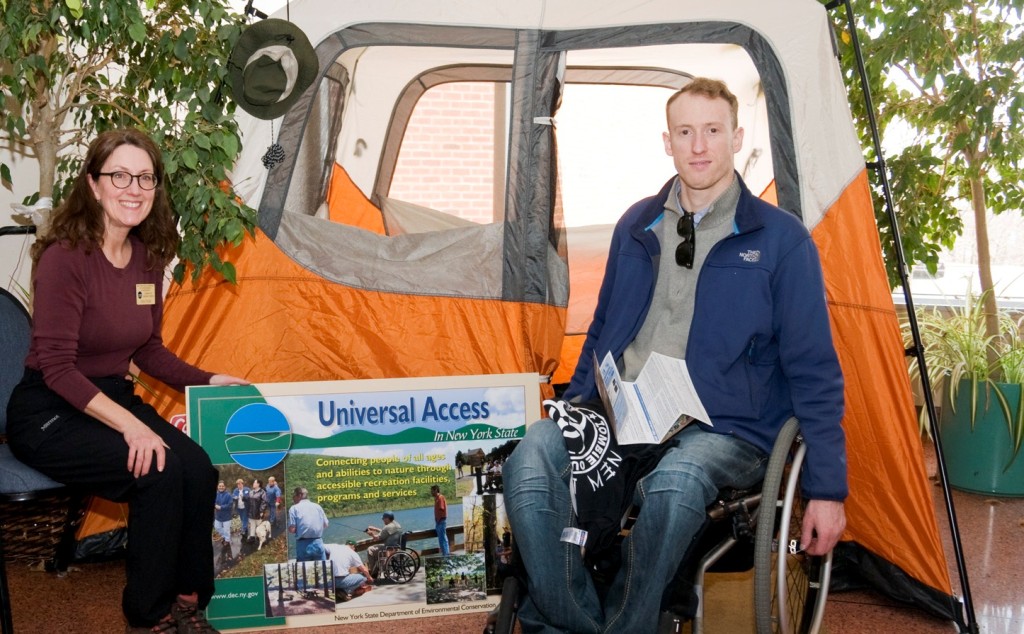 Most job applicants run from positions involved with litigation.  Not Carole Fraser.  She ran to it!  She ran to it with an enthusiasm and passion that would forever change the status of accessibility for people with disabilities in the Adirondacks and Catskills.
In 2001, the New York Department of Environmental Conservation (DEC) was in the midst of entering into one of the landmark settlement agreements under the Americans with Disabilities Act.  The settlement agreement would commit DEC to 185 projects to improve accessibility in the 6 million acre Adirondack Park and Catskill Park Forest Preserve. New York's Forest Preserve lands are constitutionally protected with strict regulations for use of building materials and motor vehicles.  When it was all said and done, DEC would spend more than $5 million over a five-year period to improve access to parking areas, restrooms, fishing access sites, boat launches, campsites, picnic areas, and equestrian facilities.  Like most early settlement agreements, this one also called for the agency to appoint an ADA coordinator to take a focused approach to planning accessibility improvements.  Carole Fraser was appointed to the position in 2001.
A paralegal by training, Carole had worked for DEC for 15 years prior as a legislative analyst and then as the assistant editor at Conservationist magazine.  She recalls hearing of the position announcement, "At that point in my life, I felt that I needed to do more and learn more.  I didn't know a lot of people with disabilities that recreated in the outdoors." She recounts her niece was living with disability and loved the outdoors where she lived in Minnesota. In this day and technology age, Carole is frequently found talking of the importance and benefits for people to seek outdoor recreation, "We need to get outdoors and download some nature."    So she has spent the last 14 years bringing people with disabilities to the outdoors, showcasing the accessibility improvements that DEC has made throughout its lands and forest preserves to encourage people with disabilities and their families to seek time in nature.  Her passion for accessibility in the outdoors and friendly disposition are captivating.  As a result, she has led DEC to become a model of accessibility management.
"In the very beginning, I didn't realize the level of difficulty to complete this task simply due to the lack of accessibility guidelines for outdoor areas," says Carole.  She thought it would be as easy as contacting other state ADA coordinators to get information on how they were making their parks and forest preserves accessible. But there weren't any.  She even contacted the experts at the Access Board, Department of Justice and the Department of Interior, but they did not have all the answers.  "No one discouraged me, but I got the sense this was going to be a really tough job.  I initially thought about backing out of the job because I didn't know if I could do this due to the lack of information."  But that all changed when Carole was asked to be a judge for the Ms Wheelchair New York competitions just a couple weeks after starting at DEC.  "Thinking it was a good opportunity to get feedback, I made a presentation to the group about what was going on at DEC and asked the question 'how can we make camping accessible, what tips did they have?   I looked out over this room full of beautiful young women and their families and no one had an answer.  No one spoke.  Then finally one woman raised her hand to say 'we can't tell you because we have never had the experience to go camping at an accessible location.'  And that was the turning point for me– when I decided to stay on the job.  It became a quality of life issue and I decided that this is where I could make a difference."
Carole is still involved in the Ms Wheelchair New York competition and her experience recently came full circle.  Every year she looks forward to sharing with them all the outdoor opportunities that have been created throughout DEC lands.  Recently one of the participants shared her experience at Lampson Falls, about the wonderful time that was she had with her family.  "So I know that it is working.  People with disabilities are looking beyond getting to work and the voting booth.  They are thinking about outdoor recreation.  In the beginning we did not have a lot of people saying we want to go camping, but it is happening now."
Carole admits the biggest challenged faced by DEC was the environment.  "Our administration was very supportive from the beginning.  The biggest obstacle was the environment – creating access that didn't disturb the natural setting."  If they built a trail, how could it be designed so that it didn't look like a sidewalk.  How could they design a non-linear path that blended into nature, keeping the natural experience that people were seeking.  The Forest Preserve regulations prevented use of certain materials.  For example if a bridge was needed for a trail, it had to be wood.  Metal and plastics could not be used as construction material.  "We had to get everyone on board, from the agency to several large environmental groups, so that we could do this in a way that was consistent with the conservation laws and the spirit of the ADA.  They needed to see some of the projects and success to understand that we could do this in a balanced way."
Training played a major factor in the DEC compliance plan.  Early on, Carole brought instructors in from the U.S. Department of Justice, the U.S. Access Board and the regional ADA Center.  "Training for your staff is so important.  It has to be ongoing.  It should be tailored to meet their needs.  You don't want them to think it is a waste of time to be away from the office.  Training is the only way we will meet the critical mass for everyone to understand that it [accessibility] isn't just one person's job, it's everyone's job.  For a long time I thought I could just feed the information to people."
Carole says it was critical for staff to become engaged in the accessibility management process.  "They had to become more actively involved through in-person training."  She highly recommends that colleagues in the field continue with their own training too and reach out to others to share experience and expertise.  She advocates for ADA coordinators to talk to other professionals in other states, develop partnerships and invite public feedback from people on what they want.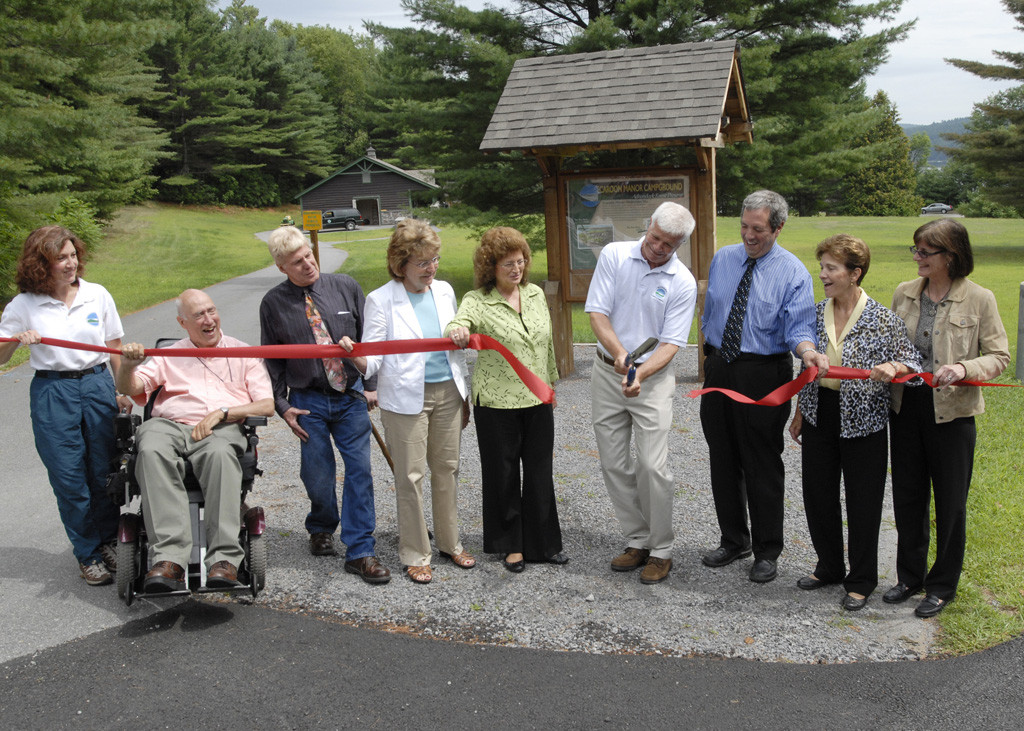 Undoubtedly, Carole is one of the most active ADA Coordinators in the country when it comes to bringing visitors with disabilities out to enjoy the accessible outdoor recreation areas DEC has worked so hard to create.  "It wasn't build it and they will come," says Carole.  "We needed to promote our projects, introduce people to these projects.  We had to promote them to make sure people were aware.  Because a lot of times you are introducing people to something they have never done before — like going out on the trail or paddling on the water."
Carole also talks frequently about maintaining public confidence.  "After we built it, we had to be vigilant to make sure that it was maintained as accessible.  That is difficult when you have limited resources and competing dollars for health and safety.  People are spending their vacation time to drive somewhere to enjoy.  There is a lot of planning involved.  If they get to the location and it isn't accessible, it isn't like they can go down the road to the next place.  We always need to be considerate of people who are planning [their vacations on our lands] and their expectation to have a wonderful day in the outdoors."
She is also quick to remind people that the terms of the settlement agreement were just the beginning of their journey to create more accessible outdoor recreation experiences in the state of New York.  "That wasn't the ceiling, but the floor for what we were about to embark on."  Carole says their goal was to go above and beyond the minimum requirements of the accessibility standards.  They wanted to make sure staff understood the difference between accessible design and universal design, and whenever possible use the principles of universal design to meet the needs of the greatest number of users.  "We have done so many projects, I am most proud of the new projects that I hear about, that were universally designed from the ground up, and I had very little to do with the planning.  The staff here at the Department of Environmental Conservation, through all these years, understands that providing access is just the way we do business now."
Resources
New York Department of Environmental Conservation – Accessible Recreation